The Julian Marshall Award
Julian M. Marshall served as President of the Bryn Mawr Hound Show Association from 1983 through 1987, and as Honorary President from 1988 through 1999. After Mr. Marshall's death, his family inaugurated the award, which is presented by a member of Mr. Marshall's family.
A living individual is selected for this prestigious annual honor based upon his or her lifetime contribution to hounds and hunting.
The 2017 award was presented at the show's Friday night opening dinner.
Most Recent Recipient:
2017 -
Mrs. Peyton S. "Jeep" Cochran, MBH, Calf Pasture Bassets, Glyndon, MD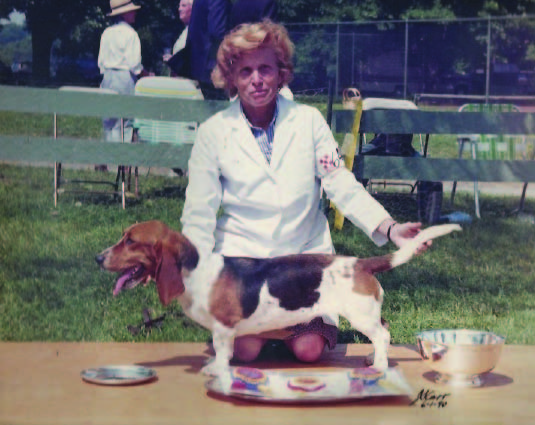 Jeep's resume epitomizes the Sporting Life. She has traveled the globe, fly rod in hand, wetting her line in streams, creeks and rivers in Alaska, the Kamchatka Peninsula, Argentina, Montana and New York's Catskills; following one of her Alaska trips, she named all her Basset Young Entry after Alaskan Rivers. She has watched Eagles being flown (the ultimate falconry) in Mongolia, where she rode the native ponies, and camped in a yurt. She has sea-kayaked down Canada's West coast, and is a lifelong conservationist. However, her most exceptional sporting achievements have been her tenure as Master and Huntsman of the Calf Pasture Bassets, and her fierce dedication to and passion for these wonderful, talented, and challenging hounds. Having settled and raised a family in Reisterstown, Md., she fox hunted with the Green Spring Valley in the Les Grimes era. Eventually, she built a lovely kennel and started her own pack of Bassets, the Calf Pasture, which were recognized by the National Beagle Club in 1988. From the outset, the Calf Pasture has been a palpable force , as Jeep transported her beloved hounds to joint meets, competitions and Hound Shows in at least ten states and Canada, as well as hunting her home country several days a week. Her crowning achievements? Perhaps her 24 years as Chairman of the Basset Committee of the National Beagle Club, from which she retired in 2016, or her dedication to the restoration of the N.B.C. running grounds at Aldie, or her tireless encouragement of new packs. But she also put together a consortium of like-minded people…. and Basset hounds…. to travel to Montana to hunt jackrabbits on a ranch near Red Lodge in the foothills of the Absaro ka range, just north of Yellowstone Park. The eight Septembers during which these lucky people traveled to the Lazy EL Ranch remain a magical, indelible memory for those… virtually all foxhunters… fortunate enough to benefit from Jeep's determination, vision and imagination. This group would agree, probably unanimously, that those days following these amazing short-legged (but not slow!) hounds across that incomparable country was the most fun they had ever HAD with hounds, on horseback or otherwise. "BASSETS?" you ask? Really? By the end of their week, the "short leggeds" wore out every horse on the ranch. Jeep is the real deal. Her strength, courage, generosity, along with her wicked sense of humor, continue to refresh and illuminate the lives of her many friends, allies and colleagues. (Text courtesy of Betsy Park)
Past Recipients of the Award:
2001 - John H. Richards, Jr., ex-MFH
2002 - George S. Hundt, ex-MFH
2003 - Benjamin H. Hardaway, III, MFH
2004 - Joseph B. Wiley, Jr., MBH
2005 - Nancy Penn Smith Hannum, ex-MFH
2006 - Henry N. Woolman, III, ex-MFH
2007 - Russell B. Clark, Honorary MFH
2008 - Robert H. Crompton, III, MFH
2009 - Frank Hastings Griffin, III, MFH
2010 - Nigel Peel, MFH
2011 - John "Jake" Carle, II, ex-MFH
2012 - Sherman P. Haight, Jr., ex-MFH
2013 - Betsy Park, MB, MH
2014 - Mr. & Mrs. C. Martin Wood, III, MFHs
2015 - Mr. William E. Bobbitt, Jr. & Mrs. Mandy McC. Bobbitt, MBs
2016 - Captain Ian W. Farquhar, LVO, MFH